Bethesda MD Air Duct Cleaning
T & D provides residential and commercial air duct cleaning to homes, townhomes, condominiums, apartment buildings and businesses throughout Bethesda Maryland including Bethesda Zip Codes of 20810, 20811, 20813, 20814, 20815, 20816, 20817, 20824, 20825, 20827, 20889, 20892 and 20894.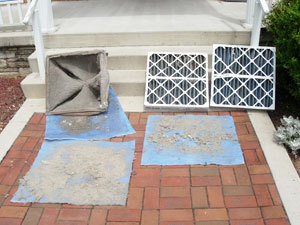 What to expect from our HVAC air duct cleaning in Bethesda MD:
Appointments are prompt
Air duct system is inspected
No dust or dirt left behind in any vent
T&D's air duct cleaning professionals in Bethesda MD are NADCA certified
Dirty air duct vent registers and grills are cleaned
Supply & return ductwork is mechanically cleaned with T&D arsenal of high powered hoses & agitating devices - removing contaminants from your ducts.
High powered vacuum unit is used to remove dust, pollen & all other contaminants

Our certified HVAC air duct cleaners serve homes & businesses
in Bethesda Maryland and surrounding towns.
Dirt, dust, mold and more are removed
from Bethesda Maryland air ducts