Alexandria VA Air Duct Cleaning & Alexandria VA Dryer Vent Cleaning
Duct cleaning of your HVAC ductwork and dryer vent cleaning to remove dangerous lint and dust buildup is available in Alexandria VA and throughout Northern Virginia by professionally certified specialists. Duct cleaning and dryer vent cleaning is what we do exclusively. Call or email us for a Free Estimate and browse our website for great information on the duct cleaning services we offer.

Air duct cleaning and dryer vent cleaning and repairs by T & D Ducts. Free Estimates and prompt professional service available throughout Alexandria Virginia including Arlandria, Beverley Hills, Brad Lee, Braddock, Braddock Heights, Brookville, Cameron Valley, Chapel Hill VA, Chinquapin Village, Clover, College Park, Dalecrest, Del Ray Virginia, Delta, Duke Gardens, Fairlington, Fort Ward Heights, Hume, Jefferson Park, Kingstowne, Lunt, Lynhaven, Monticello Park, Mount Ida, Northridge, Northeast, Oakcrest, Old Town, Potomac Greens, Potomac Yards, Rosemont, Seminary Hill VA, St Elmo, Stonegage, Taylor Run, Van Dorn Northern Virginia and West End.

| | |
| --- | --- |
| | Quick Links |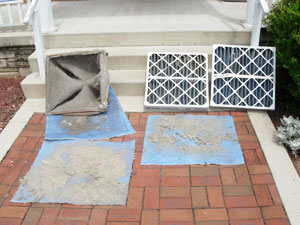 T & D provides residential and commercial air duct cleaning to homes, townhomes, condominiums, apartment buildings and businesses throughout Alexandria Virginia including the Alexandria Zip Codes of 22301, 22302, 22303, 22304, 22305, 22306, 22307, 22308, 22309, 22310, 22311, 22312, 22313, 22314, 22315, 22320, 22321, 22331, 22332, 22333, 22334 and 22336.
What to expect from our HVAC air duct cleaning in Alexandria VA:
Appointments are prompt
Air duct system is inspected
No dust or dirt left behind in any vent
T&D's air duct cleaning professionals in Alexandria VA are NADCA certified
Dirty air duct vent registers and grills are cleaned
Supply & return ductwork is mechanically cleaned with T&D arsenal of high powered hoses & agitating devices - removing contaminants from your ducts.
High powered vacuum unit is used to remove dust, pollen & all other contaminants

Our certified HVAC air duct cleaners serve homes & businesses
in Alexandria Virginia and surrounding towns.

Dirt, dust, mold and more are removed
from Alexandria Virginia air ducts